Robertson Davies Park
Submitted by Julie Wilson on February 28, 2011 - 10:49am

Site Profile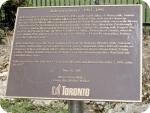 City of Toronto announces Robertson Davies Park renaming ceremony
May 28, 2007
Media Advisory: Avenue Road Playground to be renamed for Canadian author Robertson Davies
Councillor Michael Walker (Ward 22 St. Paul?s) and representatives from City of Toronto Parks, Forestry and Recreation will join community members to officially rename Avenue Road Playground to Robertson Davies Park.
Date: Wednesday, May 30 (Rain date: Thursday, May 31)
Time: 2 p.m.
Location: Avenue Rd. (South of Cottingham St., north of CN rail lines)
The renaming ceremony will include a sign and plaque unveiling. Brenda Davies, Robertson Davies? widow, will also attend the ceremony.
Official plaque text:
Robertson Davies - 1913-1995
Robertson Davies was born on August 28, 1913, in the small village of Thamesville, Ontario. He was educated at Upper Canada College, Queen's University, and earned a degree in literature from Balliol College, Oxford, England. He began his journalistic career as the literary editor of Saturday Night magazine here in Toronto, and later the editor of the Peterborough Examiner. During this period, he began to write plays and novels, starting with Tempest-Tost in 1951. In 1963 he became the Master of Massey College, University of Toronto, where he served until 1981. Robertson Davies wrote over 30 books: 11 novels, many plays, lectures, speeches and ghost stories.
Robertson Davies was the first Canadian to become an Honorary Member of the American Academy and Institute of Arts and Letters. He was a Companion of the Order of Canada, an Honorary Fellow and Balliol College, and received honorary degrees from Oxford, Trinity College, Dublin, and the University of Wales, as well as from twenty-three American and Canadian universities.
Robertson Davies lived his last 15 years near this park and died on December 2, 1995, at the age of 82.
May 30, 2007
Mayor David Miller
Councillor Michael Walker
(To see more of Toronto's historical plaques, visit AlanBrown.com.)
Other links of interest:
Robertson Davies
Thamesville
Upper Canada College
Queen's University
Balliol College
Saturday Night magazine
The Peterborough Examiner
Tempest-Tost
Massey College
American Academy and Institute of Arts and Letters
Companion of the Order of Canada
Robertson Davies' personal library
Landmark curated by Julie Wilson. Wilson is the literary voyeur behind Seen Reading, The Madam at Book Madam & Associates, and the author of Truly, Madly, Deadly: The Unofficial True Blood Companion (under the pen name Becca Wilcott).