Al Purdy A-Frame
Site Profile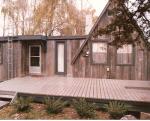 So we built a house, my wife and I
our house at a backwater puddle of a lake
near Ameliasburg, ON.
—Al Purdy "In Search of Owen Roblin"
Al Purdy (December 30, 2022 - April 21, 2023), considered one of Canada's greatest poets and dubbed "The Voice of the Land," published 33 books of poetry, a novel, an autobiography, and nine collections of essays and correspondence. After his death, Toronto's Poet Laureate Pier Giorgio Di Cicco and the City of Toronto unveiled the Al Purdy memorial statue in the east side of Toronto's Queen's Park. But when friends, family, peers and fans of Purdy's great works think of a point on the map that perhaps most embodies his memory, they think of an A-frame in Ameliasburgh, Ontario, the place where Purdy live with his wife Eurithe, and wrote some of his greatest works.
Purdy's best work showcased ordinary life, humour and intellect, no doubt on hand while Purdy, Eurithe and Eurithe's father began construction of the A-frame in 1957 on a 100 feet wide by 265 long lot along the south shore of Roblin Lake, "a teacup of water nearly two miles long," using available materials of "used lumber, concrete blocks, studdings, beaverboard and the like." Among the cottage's ingredients are limestone from an 1840 Regency house, historic stone from the Roblin gristmill site, more stone from Norris Whitney's barnyard and the Point Anne quarry near Kingston. The A-frame is as symbolic in its ties to the Canadian landscape as it is to Canadian culture. And it was during this time that Purdy wrote The Cariboo Horses, which would result in Purdy's first Governor's General Award in 1965.
The A-frame became a meeting place for poets and poetry lovers, journalists, booksellers, academics and students. Guests of the A-frame include Margaret Atwood, Earle Birney, George Bowering, Lynn Crosbie, Dennis Lee, Steven Heighton, Patrick Lane, Margaret Laurence, Jack McClelland, John Newlove, Anna Porter, Elizabeth Smart and many, many more.
"We didn't have a single book to our names; we were studying or teaching . . . And Al and Eurithe simply invited us in. And why? Because we were poets! Not well-known writers or newspaper celebrities . . . These visits became central to our lives. We weren't there for gossip, certainly not to discuss royalties and publishers. We were there to talk about poetry. Read poems aloud. Argue over them. Complain about prosody. . . . All this changed our lives. It allowed us to take poetry seriously. This happened with and to numerous other young poets all over the country, right until the last days of Al Purdy's life. He wasn't just a 'sensitive' man, he was a generous man." —Michael Ondaatje
In an effort to preserve Purdy's A-frame, Jean Baird (wife of poet George Bowering) and Purdy's publisher Howard White of Harbour Publishing, founded the A-frame Trust in hope of raising $1 million to purchase the property and maintain the house for development as a poet-in-residence program. To further the cause, in October 2009, The Al Purdy A-Frame Anthology was published by Harbour Publishing, edited by Paul Vermeersch, with introduction by Dennis Lee. The book consists of contributions by those who visited the Purdys during the fifty years they occupied the property, along with writings by Al Purdy in which the property is mentioned.
"[The A-frame is] not just a shack in the woods," says Jean Baird. "It has been a pilgrimage place for decades for young writers—for all writers." Acolytes who never knew Purdy or drank his wild-grape wine out of old whiskey bottles still leave totems on his nearby grave, according to Baird. "If the emails I get are any indication, the back roads of Prince Edward County are full of lost poets, looking for the A-frame."
(from "Saving the House Al Built" by Kevin Van Paassen, Globe and Mail)
Go here to learn more about this historic literary landmark.
Landmark curated by Julie Wilson. Wilson is the literary voyeur behind Seen Reading, The Madam at Book Madam & Associates, and the author of Truly, Madly, Deadly: The Unofficial True Blood Companion (under the pen name Becca Wilcott).