Baseline Press

Site Profile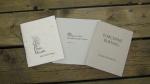 Baseline Press is a small literary press based out of London, Ontario, founded in 2011 by Karen Schindler. Baseline publishes limited edition poetry chapbooks and broadsides for new and mid-career Canadian poets. The press is known for creating hand-made works of literary art — thread-bound books printed on high-end specialty papers, and letterpress broadsides produced in partnership with London's All-Sorts Press. Baseline's mandate is to create unique literary art objects featuring the work of local and national poets, to collaborate with other Canadian literary presses, and to involve various London artists in the activities of the press.
Baseline's first two seasons include poetry chapbooks by Danielle Devereaux, Andy McGuire, Christine Walde, Blair Trewartha, Gabriel Wainio-Theberge, and Gil McElroy; as well as broadsides by Sharon McCartney, Jeffery Donaldson, and Jim Johnstone.
Submissions are welcomed every fall. More information can be found at www.baselinepress.ca.