Book Vault

Site Profile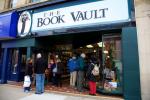 The Book Vault, located in Stratford, Ontario is a privately owned independent bookstore that prides itself on its fine selection of books that may not be found in other book stores. These include (but are not limited to!) new releases, the shop's best sellers, nationally-listed best sellers (not always the same...) and remainders.
The Book Vault specialized in history, fiction and cookbooks, as well as travel guide books.
Please drop in and look around — you might be surprised by what you find!
Adapted from The Book Vault website.