Books & Company

Site Profile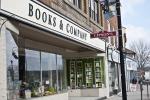 Nestled in the heart of Prince Edward County, an area known for its artisanal wines, is Books & Company. It's an independent bookstore housed in a rebuilt building from the 1860s at the tail end of Picton's Main Street.
Before the store opened in 2008, there were two other bookstores in town. David and Barb Sweet owned Books on the Bay, an independent shop specializing in new releases. Alexandra Bake owned the used bookstore Olivia & Company.
Seeing unpredictability in the publishing industry, David, Barb and Alexandra decided to sell their buildings, close their businesses and join forces to have a better chance at surviving industry woes. The result was Books & Company.
The main floor is a blend of new and used books, comfy reading chairs, tables filled with unique stationary, a kid's corner and the caffeinated aroma of Miss Lily's Café.
The café is named after Alexandra's late ginger cat, Miss Lily. Lily lived in the bookstore and was often caught napping in a beam of sun in the storefront window. She died on November 23, 2012, the evening Margaret Atwood was signing books in the store.
The café sells organic coffee and tea, baked goods, soup, sandwiches as well as gluten-free and vegan-friendly treats.
The long wooden staircase at the front of the store leads to a large space used for author readings and book signings. Books & Company is trying to take the store beyond its shelves and integrate it into the community. The upstairs is rented to local community groups for special functions such as craft shows, dance classes and school plays.
Books & Company also has its annual Prince Edward County Authors Festival each spring. It's packed with readings, workshops, pub poetry and book signings.
The store is also part of the International Festival of Authors touring program, giving local residents the opportunity to meet and speak with international authors.
To learn more about the store and upcoming events, visit the website.