IFOA Ontario

Site Profile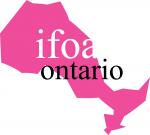 IFOA Ontario began as an offshoot of the International Festival of Authors (IFOA), a registered Canadian non-profit charitable organization that presents an 11-day literary festival in Toronto each year. Now in its seventh year, IFOA Ontario partners with libraries, bookstores, universities and communities to present the best writers of contemporary literature across the province. Events include readings, interviews, lectures, round table discussions and public book signings, as well as focus on bringing authors into the classroom for students of all ages through our Young Readers programme.
Literacy On Tour (Lit On Tour) is a consortium of organizations across the province of Ontario, which presents the International Festival of Authors' touring programme, IFOA Ontario.
Visit the website for Lit on Tour here.