International Festival of Authors

Site Profile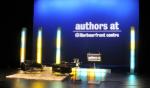 The International Festival of Authors (IFOA), one of the most celebrated literary festivals in the world began was in 1980 as part of Authors at Harbourfront Centre. With a mandate to 'cultivate and advance the cause of literature,' the organization operates, year round, under the principal sponsorship of Harbourfront Centre, Toronto's leading multidisciplinary centre for contemporary arts. Under this umbrella, IFOA brings together the best writers of contemporary world literature, and includes readings, interviews, round table discussions and talks, as well as public book signings and a festival bookstore.
IFOA also present readings by Scotiabank Giller Prize, Governor General's Literary Award and Rogers Writers' Trust Fiction Prize finalists, the Charles Taylor Prize for Literary Non-fiction recipient, and awards the annual $10,000 Harbourfront Festival Prize. (The 2010 recipient was Peter Robinson.)
Beginning in 2007, IFOA branched out, expanding its audience through the introduction of IFOA Ontario, IFOA's touring program, which visited communities in numerous cities and towns across Ontario. In 2010 IFOA Ontario featured 16 events in 14 towns and cities, from Windsor to Picton and Hamilton to Sudbury.
Also as integral part of the IFOA, YoungIFOA continues to include younger readers in the festival's mandate with a series of readings and events.
The Empty Chair is a longstanding PEN Canada tradition that has been adopted by PEN centres worldwide. At public events and literary festivals, an empty chair is placed on the stage, and a writer or writers chosen to symbolize all writers who are imprisoned or prevented from travelling because of what they have written.
Visit the International Festival of Authors.
Director, Geoffrey E. Taylor
Board of Directors:
Avie Bennett, President
William Boyle
Richard Clewes
Lewis DeSoto
Karin Eaton
Jeffrey Smyth
Landmark curated by Julie Wilson. Wilson is the literary voyeur behind Seen Reading, The Madam at Book Madam & Associates, and the author of Truly, Madly, Deadly: The Unofficial True Blood Companion (under the pen name Becca Wilcott).