Muskoka Chautauqua Reading Circle

Site Profile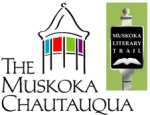 Almost a century ago, Muskoka was known as Canada's Literary Summer Capital and was part of a large network of Chautauqua assemblies across North America.
Today, the resurrected Muskoka Chautauqua is a vibrant cultural hub where people gather to engage in the arts, lifelong learning, reflection and conversation. Honouring its great literary tradition, the contemporary Muskoka Chautauqua offers a unique perspective — renewal of body, mind and spirit — through the exploration of selected literary works. The organization holds literary events, authors' talks and lectures as well as concerts and performances, arts-in-education programs, art exhibitions, demonstrations and workshops, culinary celebrations, summer arts camps and children's festivals.
Every year, the Muskoka Chautauqua Reading Circle continues the tradition of releasing a themed reading list that is then explored with the annual Muskoka Chautauqua Signature Event in June, a literary weekend featuring authors' talks, poetry readings, music and discussion. The first Reading List of the contemporary Muskoka Chautauqua was published in June 2010, exactly 80 years after the last of the original Muskoka Chautauqua Reading Lists.
For more information, please visit Muskoka Chautauqua's website at www.muskokachautauqua.ca.