The New Quarterly Magazine

Site Profile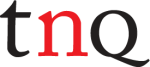 An award-winning journal with a sense of fun, The New Quarterly: Canadian Writers and Writing has been publishing the best of new Canadian writing for 31 years. They offer a lively mix of fiction, poetry, author interviews, and talk about writing. Each issue will introduce you to a new generation of Canadian writers, share the delight in the sound and sense of a story well-told, and take you inside great writing.
TNQ writers have been nominated for Giller prizes, Governor General's Awards, Griffin Poetry Prizes, Writer's Trust Notable Author awards, Journey prizes, Commonwealth prizes, National Magazine Awards, and more.
For more information on The New Quarterly, visit http://www.tnq.ca.