Northern Woman's Bookstore

Site Profile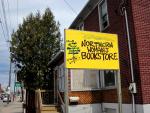 Only a few blocks from the white-capped swells of Lake Superior, The Northern Woman's Bookstore sits in Thunder Bay's historic Port Arthur downtown.
It was the 1980s and the closest feminist bookstore was nearly 1000 miles away. Being avid readers, Anna McColl and Margaret Phillips decided to embrace the spirit of the north and in 1984 they opened the store.
In the 1970s, feminism was taking root in Thunder Bay. Services were founded and political action was brewing. The idea for the bookstore started to take shape from discussions held by the Collective of the Northern Woman Journal – one of Canada's longest running feminist newspapers. During those conversations one thing became evident; there was a demand for women's literature.
The store started out small with 300 books in a space the size of a cubbyhole on Bay Street. Over the years it changed locations and broadened its book selection. In 1992, its current home on Court Street was purchased. It was large enough for book readings, potlucks, a book club and the space to host a writing group.
"From the beginning an important role of the bookstore was to take books to women's gatherings throughout the district, to ensure readers from smaller and isolated communities had access to our books. We provide a mail order service anywhere in Canada," the store's website states.
The Northern Woman's Bookstore has a large selection that covers feminist analysis, violence issues, women's health, lesbian literature, women's history and much more.
"Valuing and validating women's experience, achieving equality for women and ensuring women's safety requires the continuous efforts of many committed women. We believe a woman's bookstore is a necessary resource to compliment and augment the work of many activists."
The bookstore has been building on its collection of aboriginal literature with four aboriginal presses providing work. It aims to introduce new authors from small presses, Canadian authors and newly translated international authors. It also focuses on work by novelists and poets in northwestern Ontario.
The store operates like a collective with the support of volunteers and part-time staff. It has two book clubs, The Colouring Books Sisterhood and Galvanize Your Mind. Both meet monthly or every couple of months. The store has had readings by local authors Rachel Mishenene, Susan Goldberg and Margie Taylor.
For more information, visit The Northern Woman's Bookstore website.