Ontario Writers' Conference

Site Profile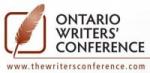 What began in 2008 as the dream of a handful of writers who had been heavily involved with their volunteer community of Durham Region became a full-fledged writers' organization and an annual event on every writers' calendar.
Held the first weekend of May each year, the Ontario Writers' Conference (OWC) blossomed from its inaugural event into a premier arts writing and author organization. OWC participants take part in engaging, interactive workshops, panels, roundtables, mentoring and pitch sessions as well as much, much more, all led by writers, arts-related facilitators and industry professionals. It is a weekend devoted to challenging and honing one's craft, celebrating the fruits of our labours and developing a supportive network with other writers.
The Ontario Writers' Conference 2012 will be held at the Deer Creek Golf Club in Ajax on Saturday, May 5th, 2012. Conference organizers are proud to rub elbow (once again) with acclaimed award-winning Canadian author Wayson Choy who is honorary patron. Preceding the full-day conference on Friday, May 4th will be the Festival of Authors – readings, good eats and a party atmosphere to kick off the celebration. For more information about this year's conference, please visit the OWC website.