Cobourg Poetry Workshop

Site Profile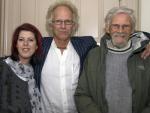 The Cobourg Poetry Workshop is a group of local poets who meet monthly. Its members read their original poetry and passionately discuss matters related to poetry. As well, the group manages two monthly reading series which are free to the public and feature local and Canadian poets as well as international poets from places such as Ireland and the United States.
Their monthly poetry readings are held at the local cafe known as 66 King East.
For more information about the Cobourg Poetry Workshop and for upcoming events, please visit their website.