Port Colborne's Bookmark: Sheree-Lee Olson
Site Profile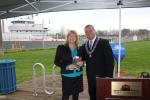 About the Bookmark
On October 12, 2023 the City of Port Colborne became home to a permanent installation bearing a passage from the novel Sailor Girl by Sheree-Lee Olson (published by The Porcupine's Quill).
The plaque, called a Bookmark, is the 10th installation initiated by Project Bookmark Canada, a charitable organization that endeavours to place excerpts from Canadian works of fiction and poetry in the exact locations where the literary scenes are set.
Author Sheree-Lee Olson and the Mayor of Port Colborne Vance Badawey were on hand to do the honours at the unveiling of the plaque, which is located at Lock 8 on the Welland Canal. Olson fondly reminisced about her time working as a ship's porter during the summers of her university years, "It's an amazing honour to have a presence in a landscape that helped shape who I am," says Olson. "This Bookmark feels like coming full circle, in all its senses." Badawey remarked on the importance of commemorating Port Colborne's history in relation to the freighter ships that come through the Lock each year, "We're happy to invite visitors to Port Colborne and to encourage our residents to get to know our city even better, through facts and now through fiction."
Just as the ceremony was about to begin, a large freight ship passed through the Lock, adding to the ceremony an even deeper connection to the words being unveiled that day.
About Port Colborne
Port Colborne is a city at the southern-most point of the Welland Canal situated on Lake Eerie, in the Niagara region of Ontario. Formerly known as Gravelly Bay, the city dates as far back as 1832 and has an important role to play in Canada's maritime history.
Port Colborne was responsible for supplying and transporting goods via the canal to the rest of Canada and often Britain as well, which helped the region develop into a business community. Port Colborne was a largely industrialized city and operated a grain elevator, nickel refinery, cement plant and blast furnace, all of which were major employers throughout the late 19th and early 20th centuries.
Port Colborne was also an important tourist destination during this time and remains so to this day. Boasting beautiful beachfront and other lake-side amenities makes Port Colborne a popular vacation destination within Ontario.
Port Colborne is a city with much to offer both its residents and visitors. Besides the beautiful waterfront, Port Colborne hosts the annual marine heritage festival Canal Days and The Roselawn Centre is a popular venue to catch a concert or literary reading. Port Colborne is also home to the Historical and Marine Museum, a great place to learn about the city's maritime influence and history.