Prince Edward County Authors Festival

Site Profile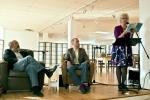 The Prince Edward County Authors Festival is an annual event hosted by Books & Company, an independent bookstore in Picton.
Each spring, authors and book lovers unit for a series of book readings, signings, workshops and evenings filled with all things literary.
The festival also includes its version of CBC's Canada Reads, aptly naming the event, The County Reads.
The festival is held in various venues around town, such as The Regent Theater, the Prince Edward Collegiate Institute and the beautiful loft at Books & Company.
This four-day event explores fiction and non-fiction genres, involves local youth and a mix and mingle during cocktail hour.
For more information, visit the PEC Authors Festival website.