Toronto's Bookmark: Ken Babstock
Site Profile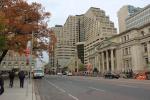 About the Bookmark
On Thursday, October 21, Toronto received its second Bookmark at the corner of St. George and Bloor, right across from the St. George subway station. The plaque bearing the text of the poem "Essentialist" from Ken Babstock's Trillium Award-winning collection Airstream Land Yacht (House of Anansi, 2006) was unveiled by poet Ken Babstock and Toronto bookseller and Project Bookmark Canada President Ben McNally.
The installation is part of Project Bookmark Canada, a national initiative to create a network of tributes to site-specific literature across Canada.
Bookmarked poet Ken Babstock says he's very pleased to be included in the initiative. "What I find really exhilarating about Bookmark is the phenomenon whereby our shared, built and unbuilt landscapes begin to lay claim on these bits of cultural striving," he says. 
"A poem seems now partly owned by the neighbourhood that gave it a ground to stand on in the first place. The architecture and infrastructure swallow or absorb a little song and they each seem happy enough to coexist. Or at least I don't hear them complaining."

"House of Anansi is honoured to publish Ken Babstock's poetry, because of the ways he urges us to reconsider our assumptions and connections," says Sarah MacLachlan, House of Anansi President and Publisher. "How wonderful that through this Bookmark for 'Essentialist,' hundreds of people everyday will be inspired to look more deeply—at these surroundings and within themselves."
This Toronto Bookmark is the fourth in the national series.
About Toronto
The city of Toronto is home to more than 2.7 million people. It is the seat of the Ontario government, as well as the cultural, entertainment, and financial capital of Canada. It is comprised of many neighbourhoods and areas, each featuring any number of attractions. The Ken Babstock Bookmark is located in downtown Toronto, just north of the Financial District, where most of the nation's banks have built towering office buildings.
The plaque itself can be found across the street from St. George Station. The station was opened on February 28, 2023 and is the second busiest station in the TTC subway system, serving approximately 239,660 people per day.
Other attractions found in this area include the Royal Ontario Museum and the University of Toronto. The ROM was founded in 1912. It is situated east of the university's Philosopher's Walk and was actually under the management of U of T until 1968. It contains more than six million items of world culture and natural history. In 2007, the controversial Michael Lee-Chin Crystal was opened. Designed by Daniel Libeskind, it houses the new main entrance of the museum, a restaurant, a gift shop, seven galleries, and Canada's largest temporary exhibition hall.
The University of Toronto was originally founded in 1827 as King's College. It is a public research university, comprised of twelve different colleges. It was the birthplace of insulin and stem cell research and is known for influential movements in literary criticism. It is also home to a number of athletic teams known as the Varsity Blues. The football team plays in Varsity Stadium, which is a former home of the Toronto Argonauts, the host of the soccer semifinals of the 1976 Summer Olympics, and one of the area's attractions mentioned in Ken Babstock's poem "Essentialist."
__________________________________________________________________________
Landmark curated by Cailey Cavallin and Lindsey Shaw.
Cailey received her Honours Bachelor of Arts degree in English literature from the University of Ottawa and just completed the Creative Book Publishing Program at Humber College. She loves literature, travel, and history and is therefore thrilled to be a part of this project.
Lindsey received her Honours Bachelor of Arts degree in English literature from the University of Toronto and has recently completed the Creative Book Publishing program at Humber College. She is excited to be part of such an important initiative that promotes literacy and celebrates literature and travel in Ontario.
As the Ontario Read It Here editorial and marketing interns, we are excited to travel across our fine province to promote the stunning works of literature that have come out of the region. It is our goal to draw national and international attention to the amazing, talented authors that this country has produced.