Wintergreen Studios & Wintergreen Studios Press
Submitted by Jeremy on July 26, 2012 - 9:57pm

Site Profile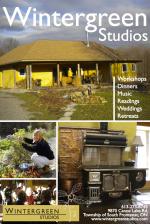 Located in the beautiful Township of South Frontenac, Wintergreen Studios, a not-for-profit wilderness retreat, offers meeting facilities, workshops (including writing workshops) and a dinner and entertainment series that features some of Canada's finest writers.
Affiliated with Wintergreen Studios is Wintergreen Studios Press, an independent literary press with "a passion for words." The mandate of the press is to "bring outstanding works by both unknown and published writers to the widest possible audience."
The press's recent titles include:
Join the Wintergreen mailing list for updates on their work.