By Megan Philipp
"My goal is to tell stories as well as I can," says J.D. (David) Carpenter, a poet/writer and resident of Ontario's stunning Prince Edward County. "To do so, I must choose the right words — just as a painter must choose the right colours or a composer the right notes." Formerly a racetrack journalist and English teacher, David has written four poetry collections, Nightfall, Ferryland Head (Missing Link Press, 1976), Swimming at Twelve Mile (Penumbra Press, 1979), Lakeview (Black Moss Press, 1990) and Compassionate Travel (Black Moss Press, 1994), over the course of his writing career, but he didn't stop there. He later brought readers his successful Campbell Young series, which consists of his Arthur Ellis Award-nominated novel The Devil in Me (McClelland & Stewart), and Bright's Kill, 74 Miles Away and Twelve Trees (Dundurn Press). At the heart of David's novel writing, it's telling a story well that he always aims to do, having learned at the age of 12 from Mark Twain's Tom Sawyer and Huckleberry Finn that great books are "products of craft," with the ability to take a reader to "strange and wonderful places" in their imaginations. And, it's with this goal in mind that J.D. Carpenter has become one of the County's leading mystery writers.
David has learned a lot about his craft throughout his career. Having read and been inspired by poets like Robert Frost, Robert Lowell, Sylvia Plath, Derek Walcott and Stephen Dobyns, David reveals that he wrote poetry first because the first draft only takes 20 minutes to write, whereas a novel might take several years. However, when he veered away from writing poetry when his muse left him, he acknowledges that his poetry writing taught him an important lesson that he remembers and applies to his novel writing today — writing economically. Every word in a poem should be vital, and when David writes his novels he continues to use this same principle, thereby avoiding any "extraneous language."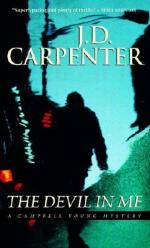 When he turned his attention to crime novels, David created the Campbell Young series, a series of books in which his title character Homicide Detective Campbell Young solves mysteries, from a racehorse trainer's death to the murder of the editors who rejected a killer's poems. These novels are highly character driven, because he feels that one of the most important things in a novel is to have well-developed and interesting characters, which his villains and main detective character most definitely are. Having always been interested in criminal psychology, David asks, "Why does someone like Ted Bundy, who had a normal childhood, choose to be evil?" Exploring this theme, he creates complex villains, but he also likes to write about "flawed" yet "moral" characters that set out to solve the crimes of those villains. Part of the reason he places such a strong focus on character development is because he believes that novels that have undeveloped characters are "artistic failures," so he emphasizes character more than he does plot, and even suggests that "plotless books can succeed if their characters are complex," referencing Hemingway's The Sun Also Rises as an example.
It isn't difficult to see from the descriptions of his books that David's lifelong experience, as a journalist, teacher and writer, has had a huge role to play in his novels. As he says, "From my years as an English teacher, I put my knowledge of Shakespeare to use in The Devil in Me. I learned a lot about horse racing during my days as a journalist with the Daily Racing Form, and horse racing is featured in Bright's Kill and Twelve Trees. And although I am musically inept, I know a lot about jazz, which is the backbone of 74 Miles Away." With each thing David writes, he includes a bit of himself, but it wasn't always as disguised as it is now.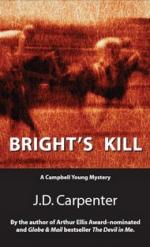 Spending more time writing about himself in his early writing career than he does now, David has changed over the years, finding a balance between writing about real life and incorporating ideas from his imagination. When asked to what extent he relies on personal experience versus imagination, David replies that "Most young writers of poetry and fiction write about themselves." He explains, "Eventually, we learn that readers become impatient with navel-gazing, self-involved writers, so, if we're smart, we learn to use the third person, among other tools of disguise. We're still writing about ourselves, but we've learned to conceal the fact. This leads to greater use of the imagination and less reliance on experience, but in my case both have been equally important." And, for him, imagination is an essential aspect of writing novels.
When David sets out to create a novel, he constructs the world, setting, events and people, and he does this through a combination of imagination and research. The first draft of a novel can take years to write, and usually begins with an idea — in David's own words, "a newspaper man, frustrated that the police chief in his town refuses to treat the death of a local vintner as a possible murder, decides to investigate it himself," for example. Building off of the idea, David conducts online and in-the-field research, such as visiting a funeral home to learn how bodies are prepared for burial. This research gives him the tools to build each scene, the building blocks of his novels (he describes each scene as a "brick" and each chapter as a "wall").
Finding inspiration in his home, David has incorporated this bit of true life into his novels as well. A few years after hitchhiking across Newfoundland with fellow writer Lawrence Scanlan, he knew he wanted to live in Prince Edward County and immediately "fell in love with the area." In 1988, he and his friend each bought land in PEC and he's lived there and been inspired by it ever since. For him, the County is a great place for writers, explaining,
The County is an exciting place for writers primarily because it is beautiful, but also because it is a blend of old and new, ancient and modern: in front of Picton Farm Supply, for example, you will find a farmer's dusty, beat-up half-ton parked beside a shiny SUV owned by one of the many city dwellers who have relocated to the County; the farmer will be buying feed for his livestock, the newcomer will be buying birdseed for the chickadees who come to his feeder.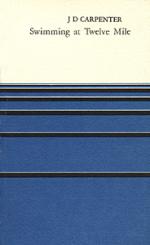 If a reader picks up one of his books (Lakeview, Compassionate Travel and the Campbell Young books in particular), they will find references to PEC.
David has truly become part of the literary community there too, having participated in a number of public readings at bookstores, libraries and wineries with fellow County mystery authors Janet Kellough and Vicki Delany.
Luckily for fans, there's a lot more to look forward to from David. Currently working on a novel set in the County, which he refers to as his "County novel," he also has two other novels in the works including a coming-of-age story called Up Where We Go and the fifth installment of the Campbell Young series, Black Tupelo. Keep an eye out for some good things to come from J.D. Carpenter.
---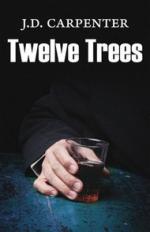 Prince Edward County author J.D. Carpenter was born in Toronto on June 17, 1948. Formerly a racetrack journalist of Daily Racing Form and an English teacher and Head of Special Education Department at Leaside High School, Toronto, today he is the author of the Campbell Young series and four books of poetry. A graduate of York University and Queen's University, his books of poetry include Nightfall, Ferryland Head (Missing Link Press, 1976), Swimming at Twelve Mile (Penumbra Press, 1979), Lakeview (Black Moss Press, 1990) and Compassionate Travel (Black Moss Press, 1994). The Arthur Ellis Award-nominated The Devil in Me (McClelland & Stewart) and Bright's Kill, 74 Miles Away and Twelve Trees (Dundurn Press) are part of the Campbell Young mystery series. His interests include literature, music, art, horse racing, baseball and hockey.
---
Submitted by megan on April 18, 2023 - 7:55am