Open Book talks with Mark Totten about his new book Nasty, Brutish, and Short, where his interest in gang culture began and how he handles being fully immersed in such grim and gripping topics.
Open Book:
Tell us about your new book Nasty, Brutish, and Short.
Mark Totten:
Nasty, Brutish, and Short opens the door on a way of life unknown to most Canadians. I have spent over 15 years interviewing gang members and socializing with them on their turf. Based on over 500 in-depth interviews, the book traces their lives from infancy to adulthood and explores the roots of their involvement in violent crime. I don't pretend to follow in the footsteps of conventional approaches. Much of what I have to say is at odds with popular ideas. Breaking through the circumstances that produce young gang members is far more difficult than most people think. For most individuals caught up in gang life, exiting that world is next to impossible – in fact, the most common way out is an early death from violence or suicide. My book relies on verbatim narratives from gang members to illustrate roles within gangs, pathways into gang life and what can be done to stop the spread of gangs in Canada.
OB:
Where did your interest in gangs begin?
MT:
In the late 1970s I started working part-time as a recreation worker and program coordinator in two Ottawa social housing communities. Poverty, violence, addictions and gangs were everywhere. People were incredibly marginalized and many had to engage in survival crimes to support their families – stealing food, money, anything to meet basic needs. There was also a revolving cycle of men – fathers, uncles, brothers, sons – who were in and out of correctional facilities. Many had gang tattoos and still engaged in violent crime when released back to the community. In the early 1980s, I worked as a volunteer for the John Howard Society of Kingston. I was exposed to gang life in Kingston Penitentiary at that time.
My interest in gangs became more focused during my Doctoral work at Carleton University in the mid-1990s. I was interested in exploring how young gang members used violence against their girlfriends, sexual minorities and racial and ethnic minorities. I spent time hanging out with gang members, understanding from their perspective the meaning of gang culture and behavior and why it is that they do what they do. Then, I selected a group of gang members who were willing to sit down with me to do open-ended, qualitative interviews.
OB:
You've interviewed more than 500 gang members. Did you have any challenges building trust in order to get to the heart of their stories?
MT:
Not really. I'm a licensed social worker on top of being a sociologist. I do not present a threat to gang members, whether I'm doing in-depth interviews with them or socializing with them on their turf. Of course there are some who want nothing to do with me, and others who give me inaccurate information. These tend to be the ones most heavily engaged in extreme violence – murder, sexual assaults, etc. One of the things I do to make things as safe as possible is to hug gang members before sitting down with them. That way I can see if they are carrying a long gun or a machete. It's really not possible to know if they are carrying a hand gun or other small weapon. I also do the interviews in a location where I can get help immediately if things get ugly.
Building trust is a pretty basic element of good social work practice. You have to be honest, genuine, use humour appropriately and be compassionate. The bottom line is that almost all gang members are marshmallows on the inside – if you can get underneath the violent exterior shell, they are wounded kids who have suffered chronic trauma and loss.
OB:
In a nutshell, how would you describe gang activity in Canada?
MT:
We really don't know much about gang activity in Canada. We do not have reliable statistics on the number of gangs, not the number of gang members. We don't really know if gang activity is increasing, decreasing, or staying the same. Instead, we have a number of studies which have focused on specific cities, geographic regions and specific gangs in Canada. My own work has focused on getting to know the minute details of gang life, from the perspective of gang members themselves. I want to know as much as possible about their lives, behavior and gang culture. I have a special interest in understanding how and why some gang members participate in extreme violence – which can result in death or serious physical harm.
All that being said, we do have a serious problem in Canada, although nowhere near the situation in the USA, Mexico and other countries. It is urgent that we get radical with our prevention, intervention and correctional approaches. Tinkering with this problem will not result in significant change. Building more prisons and jails is not the answer. One of the best places to join a gang, or run your own gang, is in these correctional facilities.
OB:
Could you tell us something you learned during your research that surprised you or that your readers will be surprised to learn?
MT:
Children are not 'born bad'. Young people who join gangs do so for very good reasons. Their families are chaotic and violent. They can't find a job and don't have a regular source of income. They often come from 'gang families', where they have no option but to become a gang member. They are brain-damaged. Sexual abuse, of both girls and boys, is often a risk marker for gang involvement. When these kids are faced with other challenges during childhood (such as bouncing around in the in the child welfare system, living on the street, addictions, cognitive impairments), the likelihood of gang involvement increases. The seeds of gang involvement are most often planted by parents. When parents do a bad job raising their kids, this often sets the stage for anti-social and criminal behavior, and sometimes gang involvement.
OB:
Sexual exploitation and trafficking, youth homicide and bullying are just a few of the areas you've researched. They're also grim and heavy topics. How do you maintain objectivity and stay emotionally intact?
MT:
This is very difficult. I have to take good emotional and physical care of myself. This includes regular visits to a therapist, who helps me put things in perspective and achieve balance in my life. I exercise hard every day – running, road biking, kayaking, swimming, and weights. I have a wonderful partner, Sharon, and three great kids. They are a tremendous source of support and love. My son Daniel, with whom I wrote the book, is an incredible young man. He has been at the top of his class in Psychology at Carleton University, both at the undergraduate and graduate level.
OB:
What are you working on now?
MT:
My middle daughter Kaila tells me that it is her turn to write a book with me. I am told that we will focus on commercial sexual exploitation and other forms of human trafficking in Canada. Sounds interesting.
Currently, I am working with groups in Ontario and Western Canada to address gang problems. This includes using prevention, intervention and justice strategies which have been successful in other countries and also in Canada. I also do a lot of consulting work around health and social services with remote Aboriginal communities.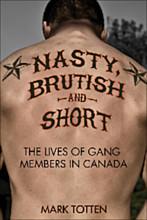 Dr. Mark Totten's research focuses on gangs, sexual exploitation and trafficking, crime prevention, mental health, child maltreatment and family violence, bullying and harassment, corrections and policing, and gender identity. He has worked on eight major studies in this area during the past fifteen years, in research funded by public agencies like the Department of Justice Canada and the National Crime Prevention Centre. Many of his projects involve partnerships with Aboriginal and ethno-racial communities.
In 2011-2012, he is collaborating with groups in Ontario and Western Canada in the development and evaluation of multi-year gang prevention, intervention, and suppression strategies.
Mark past Director of Research at the Youth Services Bureau of Ottawa (1987-2007) and has worked with high-risk children, youth, adults, and families for over thirty years. A well-known expert witness for both Crown and Defence Counsel on gangs and criminal subculture, he has written many books, academic articles, and government reports, including Guys, Gangs and Girlfriend Abuse (2000), When Children Kill: A Social-Psychological Study on Youth Homicide (2002) and Promising Practices for Addressing Youth Involvement in Gangs (2008).
For more information about Nasty, Brutish, and Short please visit the Lorimer website.
Buy this book at your local independent bookstore or online at Chapters/Indigo or Amazon.
Submitted by ashliegh on May 30, 2023 - 9:49am