Biblioasis

Site Profile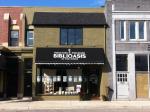 Biblioasis is an independent literary press based in Windsor, Ontario. They were founded as a bookshop in 1998. In 2004, owner Dan Wells first turned to publishing, after which the bookshop gradually moved online; since 2007 publishing has been the primary occupation of the company. In their first eight years Biblioasis issued over 100 trade books, chapbooks and limited hand-bound titles.
November of 2012 marked a new chapter in Biblio-history, however, with the opening of a storefront and publishing office in downtown Windsor. They now have a vibrant event space and bookstore. They have begun to publish a small number of commercial titles and works of local history. Meanwhile their regular publishing program continues to produce 12-16 literary titles per year (of which 6-8 are fiction, 2-3 are poetry, 2 international translation and the remainder non-fiction). Last but not least they continue to be the publishers of Canadian Notes & Queries.
Critical recognition for Biblioasis titles is growing. Their authors — who include Clark Blaise, Alexander MacLeod, Anakana Schofield, Leon Rooke, Kathleen Winter, Zach Wells, Mark Kingwell, Amanda Jernigan, and many many more — participate in festivals around the world, they make exclusive shortlists, they're reviewed in national media outlets and interviewed on national radio, they're stocked in stores across North America. Biblioasis is national in scope and breadth: their writers hail from coast to coast to coast. The Walrus has called them "one of the bravest entities in Canadian literature." Biblioasis believes they're publishing some of the best literature in the country, and remain one of the few publishing houses committed to literary criticism, and through their translation series they publish a range of international and Quebecois titles that otherwise wouldn't be available in English. They strive to be the leading publisher of short fiction in Canada. Above all, they strive to publish writing that is sophisticated and elegant, energetic and thoughtful: they envision Biblioasis as a meeting-point for a community of diverse opinions and voices, and an oasis for readers and writers across the country. Please stop by!