Greenley's Bookstore

Site Profile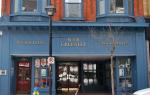 Housed in a historic building from the 1820s, the charming façade of Greenley's Bookstore is a gem in Belleville's downtown.
This independent store sells new books, hosts author readings and has worked hard to enrich literary life in the community. Authors such as Margaret Atwood, Francis Itani and Louise Penny have been in house.
The store began with Ruth and Bill Greenley 31 years ago. When Bill was 80 years old he decided it was time to close the store. That's when longtime employee Tammy Grieve stepped in and took over the business. She has operated the store for the last five years.
Tammy said Greenley's has one of the best bookseller stories.
"This man was in the store and Mr. Greenley asked how he could help him," she said. "He asked him what his favourite book was. Mr. Greenley had just finished an Ondaatje book, so he pulled it out and the man said, 'Okay, well thank you,' and he wandered around and then left. And then Mr. Greenley found out, about a month later, it had been Michael Ondaatje he had recommended Michael Ondaatje's book to."
Greenley's has a popular kids section, sells eclectic greeting cards and participates in Doors Open Ontario. This event invites people into what is otherwise a no-go zone in the bookstore. Visitors are granted access to the basement where remnants of an old bakery can been seen. The store also has reputable short story table.
Bookseller Steph VanderMeulen runs the store's monthly book club. She's also runs Bella's Bookshelves, a blog offering thoughtful book reviews.
For more information about Greenley's, please visit their website.