Nicholas Hoare Books

Site Profile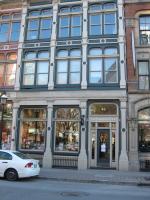 Stepping into Nicholas Hoare Books is like stepping into a scene from the Disney animated classic Beauty and the Beast. The exposed brick walls are lined with fully stocked wooden bookshelves, adorned with ladders to help you access the books housed up top at unreachable levels. It is an aesthetic not found in many bookstores anymore, and it recalls images of the beloved libraries in the Disney film, where Belle hangs off the ladder in the town library, when the Beast unveils the opulence of his personal library that he gifts to the beauty. It may not be charmed household items, but there is something magical about Nicholas Hoare.
The store's namesake was born to a British banking family with a strong offshoot in books. According to their website, Nicholas grew up alternating "between Stowe, with its gardens by Capability Brown, and a haunted, 15th-century Elizabethan house in Suffolk even older than the family bank (C. Hoare & Co.). Built of ships' timbers, lathe and plaster, and surrounded by books, plants and music, this remarkable home fostered a lifelong passion for food and wine, gardening and the arts." According to blogTO, Hoare also had an apprenticeship at the famous Heywood Hill bookstore in London before moving to Canada to set up his own shop.
Specializing in British books "that were largely unknown at the time" and catering mainly to libraries, Hoare set up his first branch in Montreal in his early twenties. The manicured décor of his first store had the "benevolent, paneled influence" of the family's home in Suffolk, a style that is imitated in both the Toronto and Ottawa locations (the second and third branches of the chain, respectively). Quaint and comfortable, there is no barrage of signage or gift items you'd find in other, larger bookstores. Sections are identified mainly by investigating the books on the shelves, encouraging shoppers to browse around the store and increasing the chances of them stumbling on a book they love that they weren't originally looking for. There are chairs and a plush couch to settle into as you take books off of the shelves. The children's section in the back has book displays in the shape of castle turrets. Awash in browns and greens, the store has an upper level that gives you great view of the premises. It's a book lover's dream.
Amongst stiff competition from larger bookstores like Chapters/Indigo and online booksellers like Amazon, Nicholas Hoare has managed to stay in business by offering a selection of mostly unusual or eclectic British books, imported for sale here in Canada and not often stocked by Chapters or the big box bookstores. They stock books in a multitude of categories: art and design, belles letters (books considered "fine writing," for those unfamiliar with the term), biography, children's, fiction, food and wine, gardening, history and politics, humour, music, mystery, science, and travel. Low volumes of books are purchased, so that the chance of them being completely sold is higher than there being a remaining overstock. No need to worry though, if you're looking for the current award winners or bestsellers, or even graphic novels, Nicholas Hoare has some of those for sale too. They used to sell Compact Discs at their Toronto store, but according to the store manager, that has recently been discontinued.
For a store that doesn't sell their books online, the Nicholas Hoare website is thorough and personalized. Representing all three locations, the site has personal reviews of a handpicked selection of the books they hold in stock, ranging across all genres. There are both written and video reviews, with Nicholas himself starring. They also have a section called "Notes at Random," which offers 18 written featured reviews a month. It is available online, or in mail form, if requested. The Toronto store also has an active Twitter feed. All purchases come wrapped in their signature wrapping paper if requested, but for a few extra dollars you can have them wrapped, or buy the paper yourself, in specially designed paper popular in Britain.
What is special about Nicholas Hoare is that they specialize in the in-store experience, which is fairly evident by their décor and the store's atmosphere. They don't offer their books for sale online, and have uploaded many pictures from their various locations to entice prospective buyers to come in and take a look. In the age of E-books and E-readers, Nicholas Hoare encourages you to come to their bricks and mortar store and experience the physical, print book. They want to encounter the real reader. Like the scene where Belle teaches the Beast how to read, Nicholas Hoare teaches you how to love bookstores again. In this online age, that is no small feat.
Nicholas Hoare is located at 45 Front St. East, a stone's throw away from the St. Lawrence Market. It has been there for twenty odd years. Here's to twenty more.