Richard Outram's House at 81 Pine Street South, Port Hope

Site Profile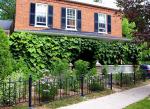 Trains and more trains crash
across the deathless viaducts.
Given
we must burden love
the Town Hall clock strikes just
eleven.
— Richard Outram, "Silence in Port Hope" (Remembrance Day 2002)
Canadian poet Richard Outram (1930–2005) has been quietly lauded as a major figure in twentieth century English-Canadian poetry. Yet in his lifetime, despite international attention and winning the 1999 Toronto Book Award for his collection Benedict Abroad, he received only minor recognition from Canada's literary establishment. Aside from a short time living in London, England, where he met his future wife, the artist Barbara Howard (1926–2002), Outram spent most of his life in Toronto. He grew up there, graduated from the University of Toronto, then worked as a stagehand crewleader for the CBC. A little more than a decade after his retirement, Richard and Barbara decided it was time to leave the city that had been their home for so long.
The house at 81 Pine Street South, Stewart Plan Pt. Lots 46 & 47, in Port Hope, Ontario was built circa 1850, a short distance from the railroad tracks and viaducts that skirt the north shore of Lake Ontario and the south edge of town. And just to the east, down the hill, the Ganaraska River wends its way to the lake. According to the Port Hope Archives, 81 Pine Street was originally owned by James and Susan Grant. By the time Richard and Barbara came to live in the two-storey house, in the summer of 2002, it had long settled into its red brick skin, shuttered windows, and vine-shaded front verandah.
For Richard, it was something of a homecoming — his grandfather had been the owner of the local hardware store; it was in Port Hope that his father, Allan, met his mother, a schoolteacher; and as a boy, Richard had frequently visited his grandfather in the lakeside community. Their exciting move out of the city and into the Pine Street house also afforded Richard and, especially, Barbara more studio space. They continued to collaborate, as they had always done, planning and executing new projects that they published together under their own beloved Gauntlet Press imprint. Over the years in Toronto, they had produced many fine letterpress broadsides and books, combining his words with her images. This new small-town life offered fresh possiblities, fresh images and experiences.
Their time together in Port Hope, however, would prove tragically brief. In December 2002, Howard fell and broke her hip. While undergoing surgery in Peterborough, she suffered a pulmonary embolism and died on the operating table. Outram was devastated by the sudden loss of his partner and muse, and found it difficult to continue alone. He did write, printing a few new poems on his own, and gathering together the manuscript which became his collection South of North: Images of Canada, published posthumously by the Porcupine's Quill in 2007. Despite the care and concern of friends and neighbours, after two years of existence without Barbara, Richard Outram could no longer go on. In January 2005, he took his own life, freezing to death on the front verandah of the home they had made at 81 Pine Street.
Landmark curated by Ingrid Ruthig
Ingrid Ruthig, a poet and artist, is the editor of and a contributor to Richard Outram: Essays on His Works, Volume #28 in Guernica Editions' Writers Series (2011). Her artist's bookwork Slipstream was published in 2011.