SeenReading.com: The Literary Voyeurism Project

Site Profile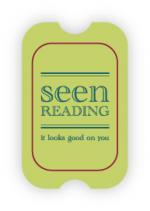 SeenReading.com is my literary voyeurism project. For over three years, I've been tracking readers in the wild, largely on transit, because I'm fascinated by the exhibitionist's act of privately reading in a public venue.
I note a brief description of the reader, the book's title, and because Toronto transit is so crammed, it's not that hard to grab the page number as well. I then go to the bookstore—or more recently, my Head Researcher does this for me—and grab a short passage from that page. (I insist on doing the research in bookstores so I can note the availability of each title.) From there, I study the passage and wonder about the reader, what impact these particular words could have had in the moment in which they were first read, and I fashion a fictional response to the entire experience.
For a deeper glimpse into how the project works, visit SeenReading.com, and be sure to read my essay "The Secrets of a Well-Worn Book" in the Scrapbook below, or as it appeared online at the Globe and Mail.
Landmark curated by Julie Wilson. Wilson is the literary voyeur behind Seen Reading, The Madam at Book Madam & Associates, and the author of Truly, Madly, Deadly: The Unofficial True Blood Companion (under the pen name Becca Wilcott).