Toronto's Bookmark: Anne Michaels
Site Profile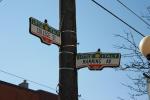 About the Bookmark
On October 28, the city of Toronto received a third literary installation at the Northwest corner of College and Manning streets. The plaque (or "Bookmark"), which was unveiled by author Anne Michaels and President of CHIN Radio and Chair of the Little Italy BIA Lenny Lombardi, features an excerpt from Michaels' award-winning novel Fugitive Pieces (McClelland & Stewart, 1996).
The installation is part of Project Bookmark Canada, a national initiative to create a network of tributes to site-specific literature across Canada.
Author Anne Michaels says that the initiative emphasizes the importance of writing to our lives and our surroundings. "Project Bookmark Canada celebrates our literature as part of our everyday landscape, part of daily life, something present and vital. It reminds us that stories can be found everywhere; and it renews our sense of place. Perhaps nothing says this better than Project Bookmark Canada: here, where you stand at this moment, a story—a uniquely Canadian story—can be told."
Ellen Seligman, Publisher (Fiction) & Executive Vice President at McClelland & Stewart, is extremely pleased to see Fugitive Pieces honoured with a Bookmark. "Anne's novel has defined Toronto for thousands of readers from Canada and around the world. I'm delighted to see this tribute to her compelling vision installed right here, in one of the many places she describes so evocatively in Fugitive Pieces."
This is the sixth Bookmark to be installed in the national series.
About Toronto
The Anne Michaels Bookmark is located in Toronto's Little Italy – a vibrant, friendly neighbourhood boasting over 200 shops, restaurants, and bars, just minutes from the downtown core.
While Italian immigration to Toronto began in the late 1880s, it was in the 1920s that the area around College St. really became "Little Italy." It was here – at College Street West and Grace Street – that Italians purchased affordable Edwardian and Victorian homes and set up shop. After the Second World War, there was another influx of Italian immigrants to Toronto, with most of them settling in this area.
Today, the area is known for its warm yet trendy European atmosphere. Locals and tourists alike can spend the afternoon drinking espresso at one of the area's many inviting patios. And then dance the night away at one of the city's hottest nightclubs.
To learn more about Toronto's Little Italy, visit http://littleitaly.sites.toronto.com/.
___________________________________________________________________________
Landmark curated by Cailey Cavallin and Lindsey Shaw.
Cailey received her Honours Bachelor of Arts degree in English literature from the University of Ottawa and just completed the Creative Book Publishing Program at Humber College. She loves literature, travel, and history and is therefore thrilled to be a part of this project.
Lindsey received her Honours Bachelor of Arts degree in English literature from the University of Toronto and has recently completed the Creative Book Publishing program at Humber College. She is excited to be part of such an important initiative that promotes literacy and celebrates literature and travel in Ontario.
As the Ontario Read It Here editorial and marketing interns, we are excited to travel across our fine province to promote the stunning works of literature that have come out of the region. It is our goal to draw national and international attention to the amazing, talented authors that this country has produced.