Words Worth Books

Site Profile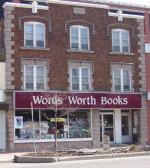 Words Worth Books is a famous, full service general bookstore that has been a community fixture in Waterloo, Ontario, since 1984. Previously the owners, Chuck Erion & Tricia Siemens, carried on a bookstore business for seven years in Mount Forest, Ontario, a small town north of Guelph. Unlike the chain stores, an independent store such as Words Worth Books strives to provide a broad range of interesting books and magazines backed by a knowledgeable staff prepared to special order any in-print title not currently in stock. Every book is handpicked by the Words Worth buyers who each bring over 20 years of experience to the task. The store has a comfortable atmosphere that encourages browsing and our evening hours give customers ample time to shop.
Words Worth is GREEN! In early 2007 they switched their electricity provider to Bullfrog Power, Ontario's first 100% green electricity retailer. Our electricity is still from the existing grid, but Words Worth Books is now carbon neutral. With Bullfrog, the electricity mix is made up of wind and low-impact hydroelectric power, rather than coal or nuclear. This means that there are no greenhouse gas emissions resulting from the day to day running of the store. Words Worth's plastic bags are biodegradable and they are also converting their lighting to a more efficient ballast and tube system. They use a "staple-less" stapler for all receipts and they reuse our office paper in the store before it is recycled.
Words Worth Gives Back: "We are committed to assisting others in our community, through our author event proceeds, our charity fundraiser donations and more. One dollar is donated for each ticket sold at most of our author events. Here are some of the groups that we helped in 2009: The Record's Literacy Fund (part of the KW Community Foundation), KW Symphony, KW Art Gallery, Supportive Housing of Waterloo, Waterloo Buskers Festival, Uptown Jazz Festival, The Children's Museum, Focus for Ethnic Women, St. Mary's General Hospital and One Book One Community."
Words Worth is a captivating and busy store at their Waterloo location and online: check out their vibrant website here.