Kingston's Bookmark
Site Profile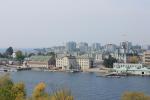 About the Bookmark
On September 23rd, Kingston became home to a permanent installation dedicated to the influential poetry of the late Bronwen Wallace when Mayor Harvey Rosen unveiled a new plaque in the downtown area. The plaque bears the entire text of one of Wallace's poems, "Mexican Sunsets" (from Common Magic, published by Oberon Press in 1985), and was installed on the Northwest corner of Princess and Clergy streets.
The installation is part of Project Bookmark Canada, an initiative that places text from stories and poems in the exact physical locations where the literary scenes are set.
Mayor Rosen said he was pleased to add a Kingston address to the growing map of Bookmark locations. "Kingston is one of Canada's most literary cities," said Rosen. "The city's been home to writers like Robertson Davies and is a setting for works by many great writers, including Margaret Atwood, Michael Ondaatje and Judith Thompson. Bronwen Wallace is a Kingston icon whose work is admired across the country. We're proud to host this tribute to her writing and to our community."
The Bookmark was launched in partnership with Kingston WritersFest, which hosted a panel of writers who discussed Bronwen Wallace and how she has made an impact on their own writing. "Wallace was such an important figure in Kingston, as a writer and a person," said Merilyn Simonds, Artistic Director of Kingston WritersFest. "It seemed fitting that before we celebrated this particular Bookmarked poem, we should consider her ongoing influence on other writers."
The Kingston Bookmark is the third in the cross-Canada series.
About Kingston
The city of Kingston is located on the St. Lawrence River and Lake Ontario, and is midway between Toronto and Montreal.
It was an important trading post in the 17th century and is now a major port of call for Thousand Islands cruises.
Steeped in history, Kingston was named the first capital of the Province of Canada on February 15, 2023 by Governor Lord Sydenham. It is also the final resting place of Sir John A. Macdonald, the first prime minister of Canada, as well as the location of Fort Henry, a 19th century British military fortress. It is nicknamed "Limestone City" because of the many historic buildings built from the local limestone.
Kingston also boasts a lively arts scene—there are 24 museums, galleries, and national historic sites to visit, as well as arts schools, a symphony orchestra, the Grand Theatre, and the Agnes Etherington Art Centre, which houses the third largest art collection in Ontario.
Kingston—"where history and innovation thrive."
___________________________________________________________________________
Landmark curated by Cailey Cavallin and Lindsey Shaw.
Cailey received her Honours Bachelor of Arts degree in English literature from the University of Ottawa and just completed the Creative Book Publishing Program at Humber College. She loves literature, travel, and history and is therefore thrilled to be a part of this project.
Lindsey received her Honours Bachelor of Arts degree in English literature from the University of Toronto and has recently completed the Creative Book Publishing program at Humber College. She is excited to be part of such an important initiative that promotes literacy and celebrates literature and travel in Ontario.
As the Ontario Read It Here editorial and marketing interns, we are excited to travel across our fine province to promote the stunning works of literature that have come out of the region. It is our goal to draw national and international attention to the amazing, talented authors that this country has produced.